Common fault of commutator turning machine
2017-02-20 14:10:45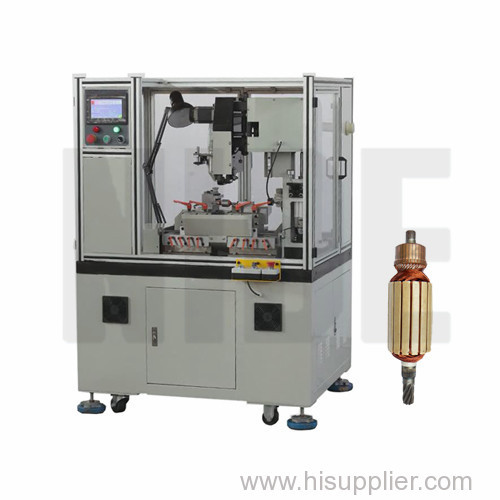 Common fault

Solution

If press start button,the breakdown alarm occurs

Checkwhether power source and air source are connectedcorrectly

Check the air cylinder and circuit to see if the air pressureis 0.4-0.6Mp

Check the relevant travel switch as per the LCD screendisplay.

Access to the operation preparation, press start button, the machine doesnot work.

Check if there are armatures on the feeding guideway. If yes, unload the armatures.

Press start button after the cutter automaticallyreturn to the initial cutting position.

X,Z spindle forward and backward travel switch breakdown.

Press urgent stop, then access to X, Z spindlecutter setting page, manually adjust the cutter to the appropriate position..

Servo motor display alarm.

Turn off the power, the turn on the machine aftertwo minutes

The cutting position is not fixed every time

Check if the couplerscrew is loose.

The mechanical arm fetching positon is not fixed every time

Check if the air supply is 0.4-0.6Mpa.

Check if the screw of lower buffer is loose.

After turning, the commutator surface is still rough.

Check if the tension of belt is loose.

Check if the cutter is abrasion

Check if the armature back block and the V shapeblock is abrasion or lack of oil.

During turning, the cutter hit the V shape block.

Check if there are any high power device

Check if the power supply is 220V±5%

Check if the screw of the sensor of cutting areais loose.
---